We believe that all of our students can make progress in their reading, writing, speaking and listening skills. Some students work on developing a secure understanding of basic grammar and sentence construction, while others master the use of the elusive semi-colon. Some students work on being able to accurately decode the words on the page, while others develop the skills required to analyse and evaluate challenging texts independently. Our ultimate aim is to help all learners to be accurate and creative users of language in a range of contexts.
Based on the needs and prior knowledge of each student, we use lessons and feedback to help them to become more accurate writers, more analytical readers, more confident speakers and more attentive listeners.
How do different subjects contribute towards the development of literacy skills?
All teachers at Uplands are teachers of literacy, regardless of the subject they teach. We are very proud of the work we do to promote high levels of reading, writing, speaking and listening across the curriculum.
All teachers mark students' writing according to the same marking codes, as shown in the table below. This consistent approach allows students to see patterns in the errors they make across the curriculum.
What do the marks on my work mean?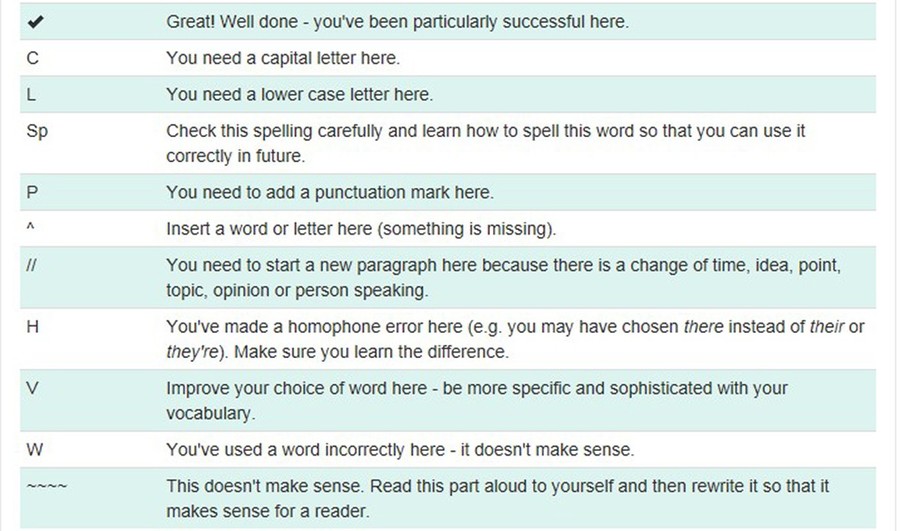 Some of the ways in which we support students' literacy include:
Every classroom has a combined dictionary and thesaurus which students are encouraged to use throughout the day;

Literacy boxes have been provided for most classrooms;

In the students' planners, there are pages for students to record literacy targets and spellings.
Some examples of how faculties other than English contribute to the development of literacy are:
The Humanities faculty formally assesses students' spelling, punctuation and grammar on extended pieces of writing and informs parents about students' strengths and areas for development;

The Sport and Culture faculty helps students to develop extended answers to questions by employing the IDEA model (Identify, Develop, Explore, Apply);

The Design and Technology department introduces specialist vocabulary through the use of flashcards and 'Taboo' cards;

The Modern Foreign Languages faculty explicitly teaches students grammatical concepts and word classes, as well as how to control tenses; and

The Science faculty worked in collaboration with the English teachers to develop a scheme of learning which developed the reading and writing skills required for success in GCSE Science.
How do we teach literacy in English lessons?
As stated above, all teachers at Uplands are teachers of literacy, but the English department clearly takes a leading role in promoting students' accurate and sophisticated use of language.
We are very proud of our English programme of learning which covers a wide range of writing skills and reading texts from contemporary novels to Shakespeare and everything in between. We evaluate and make changes to the programme year-on-year in response to students' views and their performances in the assessments.
In Year 7, students are taught in their tutor groups until Christmas when we feel we have enough evidence of their current skills to decide which set they will make the most progress in. From that point onwards, all English lessons are taught in sets; however, there is always flexibility and where a student begins to progress beyond the level of the class they are in (or conversely, if evidence shows they would benefit from moving into a lower set) we move them into the most suitable set.
Although English lessons are taught in sets, it is important to note that every student follows the same curriculum. We believe that our high expectations of all students are the reason for our outstanding English GCSE results and while each class follows the same general plan for English, each teacher carefully differentiates the learning to make it suitable for the individual students in that particular class.
Students are assessed in English lesson twice a term (with the exception of a couple of the shorter terms or longer texts when they have one formal assessment). All assessments are completed in class in silence in order to prepare students for the demands of the GCSE Controlled Assessments. Each term, students have the opportunity to demonstrate the skills they have acquired in terms of reading and writing (apart from the terms where there is only one assessment) and all of these assessments are completed in a special Assessed Work Book which follows the student from Year 7 to Year 9 and is then passed onto the GCSE teacher. This approach provides us with robust evidence of the students' progress over time and enables us to identify students who require special interventions.
After each assessment, the English teachers complete a feedback form which clearly identifies specific skills which the student has achieved, areas they can improve in order to move to the next level and, importantly, a task they are asked to do in order to respond to the teacher's comment. We find that engaging the students in their feedback and spending time reviewing the work is vital in helping them to understand where they are currently and what steps they need to take next. The Assessed Work Books are kept in school and are sent home for parents to review twice a year. Parents are encouraged to comment on the work in the books using a forma. We are always grateful when parents take the time to respond to the work and students enjoy seeing what their parents have to say about their reading and writing.
How do we encourage students to enjoy reading?
We strongly believe that reading for pleasure is central to fostering a love of lifelong learning and that reading helps to unlock a learner's potential.
Every student in Years 7 and 8 is given the opportunity to read eight full novels each year: four books are provided for students to read at home, three books are read during tutor time and at least one more novel is studied in depth during English lessons. Parents and students have been very positive about the books they take home to read.
During Year 9, students are introduced to more challenging texts, including Macbeth, Animal Farm and the War Poets in order to extend their ability to engage with complex language. We believe that by guiding students through texts in class, we help them to develop confidence in tackling texts independently.
The library provides a huge range of books - both fiction and non-fiction - which students are encouraged to borrow. Students are able to use the library at break, lunch and after school and the librarians help students to find books they will enjoy.
The library organises a range of events throughout the year, including inviting authors in to work with the students and running competitions through the tutor groups (e.g. designing costumes based on descriptions of characters in novels).
How do we support students who have difficulties in reading and writing?
Students who have reading skills below the expectations for their age are invited to participate in a wide range of reading development programmes, including:
Reading Development Programme - Students attend weekly sessions with the librarians who help to develop the students' confidence and enjoyment of reading;
For students with Special Educational Needs, the English teaching assistant records literacy targets and shares them with teachers across the curriculum to ensure all teachers are helping students to develop specific skills;
Sixth form reading buddies - Students who are identified as having low reading ages meet with their Sixth Form Buddy one form time per week and do a combination of reading, spelling and general mentoring. There is very careful pairing up and the students are supervised by our literacy Higher Level Teaching Assistant;
Reading dog - This is part of the Pets as Therapy Programme. Two afternoons a week, a dog and its owner come to the school and support readers who are reluctant and/or have low self esteem. The focus of this new programme is on reading enjoyment and confidence;
Literacy Boxes - We have a literacy toolkit box in each English classroom and numeracy one in each mathematics classroom. Each Teaching Assistant has a toolkit which has both literacy and numeracy resources in and which they take to every lesson in order to support the students The literacy box includes writing frames, connective flash cards and other useful cross-curricular resources;
In Key Stage 4, students who have lower literacy skills are taught in a separate group and follow a specialised programme which includes working towards the Functional Skills qualifications, as well as GCSE English. They have the opportunity to learn how to find jobs on websites and in newspapers, complete application forms for jobs and colleges and practice interview skills.