Safeguarding
Uplands Community College is committed to safeguarding and promoting the welfare of children and young people and expects all staff and volunteers to share this commitment. We are fully committed to ensuring that consistent effective safeguarding procedures are in place to support families, children and staff at school. All concerns are passed through the members of staff who are trained as "Designated Child Protection Officers" in school in compliance with the "sharing of information" guidance.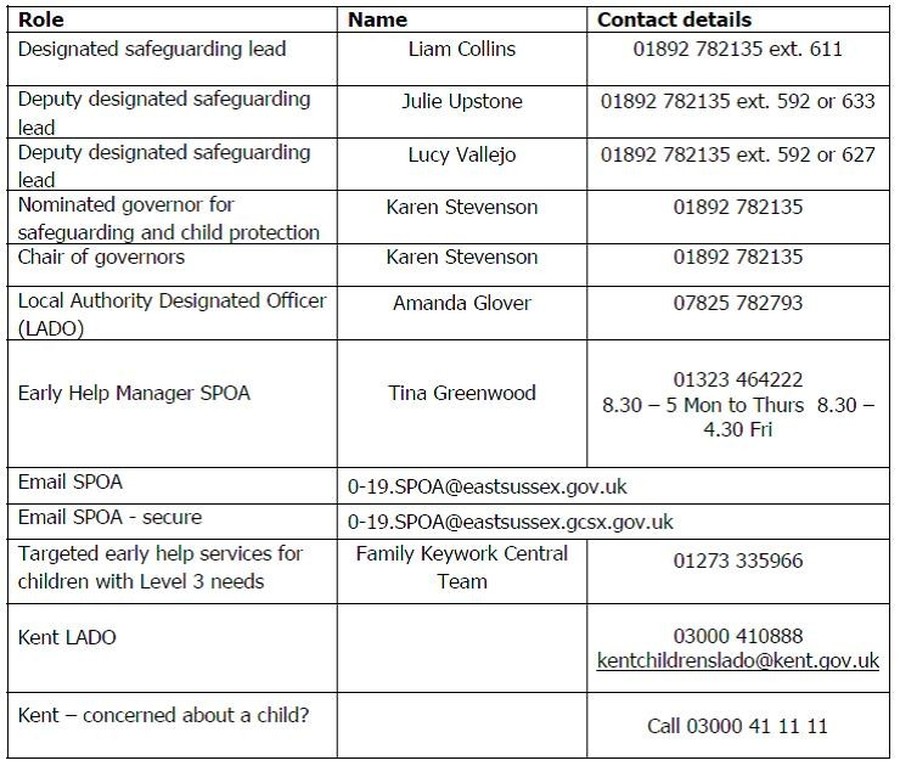 If you have serious concerns about your child or any other student at Uplands please do not hesitate to contact our Designated Safeguarding Leads at concerned@uplandscc.com as they know who to contact for the best advice and help and they are experienced in using the appropriate degree of confidentiality.

For the best interests of all our children we use the following safeguarding measure:
Cause for Concern
Teachers are asked to report any causes for concern to the School Safeguarding Team using a CP concerns form. Any concerns will be shared with parents as early as possible as more often than not there are extremely reasonable explanations for the concern. Concerns may range from children being visibly upset, to persistent lateness, to children 'disclosing' concerns.

There are five main elements to our policy:
Ensuring we practice safer recruitment in checking the suitability of staff and volunteers to work with children;

Raising awareness of child protection issues and equipping children with the skills needed to keep them safe;

Developing and then implementing procedures for identifying and reporting cases, or suspected cases, of abuse;

Supporting students who have been identified as in need of early help or at risk of harm in accordance with his/her agreed Child Protection, Child in Need or Early Help plan;

Establishing a safe environment in which children can learn and develop.
Policies
E-Safety
#LiveSkills: Resources
#Liveskills is a package of resources focusing on live streaming. Live streaming is increasingly becoming one of the most popular online activities for children and young people. Apps such as Musical.ly, Live.me, Periscope and YouNow are all soaring in popularity, which has seen other well established apps such as Facebook adding live streaming functions.
#LiveSkills explores the nuanced features of live streaming and the specific risks children and young people can face.
https://www.thinkuknow.co.uk/professionals/resources/live-streaming/
Please click here for a letter regarding social media use by students in Years 9 to 11.
Please click here for a letter regarding social media use by students in Years 7 and 8.
Does your child use any of the following technologies?
A mobile phone;

The internet;

Instant messaging (e.g. MSN);

Social networking sites (e.g. Facebook, MySpace, Bebo, Snapchat, Instagram).
If you have answered 'yes' to any of these then your child is potentially at risk.
Students are able to post a lot of information online. Sometimes this can be of a personal nature whether it be in text or images. It is important for them to understand the implications of their actions online and what may appear to be a private space can, in reality, be a very public space. Simply put, any information posted online is no longer private.
We have compiled the following list of links and downloads which we think you may find useful in enhancing your knowledge on this area and the facilities/tools which are available to you/your child.
As we head into summer break the internet use of teens rises significantly and this can lead to online dangers. The internet, and social networks in particular, have changed the way teens think about privacy and sharing personal information outside their personal friendship networks. O2 and NSPCC have created resources to help all children and their families in the UK stay safe online. As a school, we strongly recommend that all parents of our students look at and sign up for these useful tools, support and guidance to help have conversations with their children about their online activity. https://nspcc.o2.co.uk/
"2 teens meet. It's fun, then things start to get out of control. Sound familiar?"
https://amp.twimg.com/v/f5715872-94a9-4f3c-8b57-1524cf7ff9ff
Some things, like young love, never change. We've given the story of Romeo and Juliet a modern twist, showing how the lives of these young lovers might play out online today.
Social media may have changed the way young people communicate but their curiosity about sex and relationships remains the same. Technology, flirtation, excitement and hormones are a powerful mix. This can make it harder for young people to think clearly about their actions or to consider the possible consequences.
Research tells us that having a supportive parent or carer can make all the difference in helping a young person learn to stay safe, but talking to your child about sex, relationships and the internet can be daunting.
Help can be found at https://www.thinkuknow.co.uk/parents/Romeo_and_Juliet/?utm_source=twitter&utm_medium=social&utm_campaign=RandJ-2016
Cyber-bullying
Any form of bullying behaviour carried out via the use of technology is referred to as cyber-bullying. It is important to understand the effects of cyber-bullying, it can be much worse on an individual than traditional bullying partly, but not solely limited to, the fact that the perpetrator can be anonymous.
The use of social networking platforms such as Facebook, Snapchat, Instagram and Twitter is popular among students. These sites offer a degree of control over profile settings and privacy, however the default settings are not always suitable and could benefit from adjustment. Facebook allows users to post telephone numbers and addresses. It is advised that these are not published on any social networking site, Facebook or otherwise. Should privacy settings be incorrect or someone have the intent to get to the information, these details could easily fall into the wrong hands. Therefore the best policy is to simply advise not to publish this information online at all.
Guides are provided via the links below.