Year 12 and 13 Parents' Consultation Evening - 18th October
The Year 12 and 13 parents' consultation evening will take place on Thursday 18th October from 4 to 7 pm. The online system is open for bookings until 8.30 am on Wednesday 17th October. Please ensure you have made all bookings by this time as school staff will need to access/print up to date appointment lists in advance of the evening.
To make appointments, you will need to access the Parent Portal via the website.
Enter the log in details you received via an email from us;

Access 'parents' evenings' from the 'general' tab;

Your child/ren's teachers will appear at the top of the list, along with the subject they teach and their available appointment slots (other teachers names may also be visible);

Select the appointments you wish to book
Some subjects will require you to make appointments with specific teachers. Please see below for these.
Miss Farrall and Mrs Tolland will be holding joint appointments for politics students;

Mrs Wilkins will be holding appointments for Year 12 BTEC business, Year 13 business, and Year 12 and 13 law;

Mrs Sims will be available for mathematical studies appointments only. Appointments must be made with class teachers for A Level or retakes;

Year 12 A Level mathematics students to see either Mrs Ogden or Mrs Bellhouse;

Year 12 retake GCSE mathematics students to see Mr Fuller;

Year 13 A Level mathematics students to see Mr Campbell or Mrs Bellhouse;

Mr Green and Miss Mullins are holding joint appointments for geography students;

Miss Alston will be available to see Year 13 psychology students only;

Mrs Wolfe and Mrs Farnan will be holding joint appointments for 13B English literature students.
You will be able to download a .pdf showing your appointments and the rooms the teachers will be situated in.
In order for the evening to run smoothly, please ensure that you are on time to your appointment/s as there is a good chance you will be unable to see teachers if you miss the start time.
If you are unable to view appointments for a specific teacher, this may be because they are fully booked. In this case, please email office@uplandscc.com asking to arrange a meeting/telephone call and ask for your email to be forwarded to the relevant teacher.
If you have any queries, please email office@uplandscc.com in the first instance.
Sixth Form Open Evening
Thursday 1st November from 5:30 pm to 8 pm
Come along and see what we can offer in Years 12 and 13. Meet our subject staff, students, and learn about the process of applying for September 2019.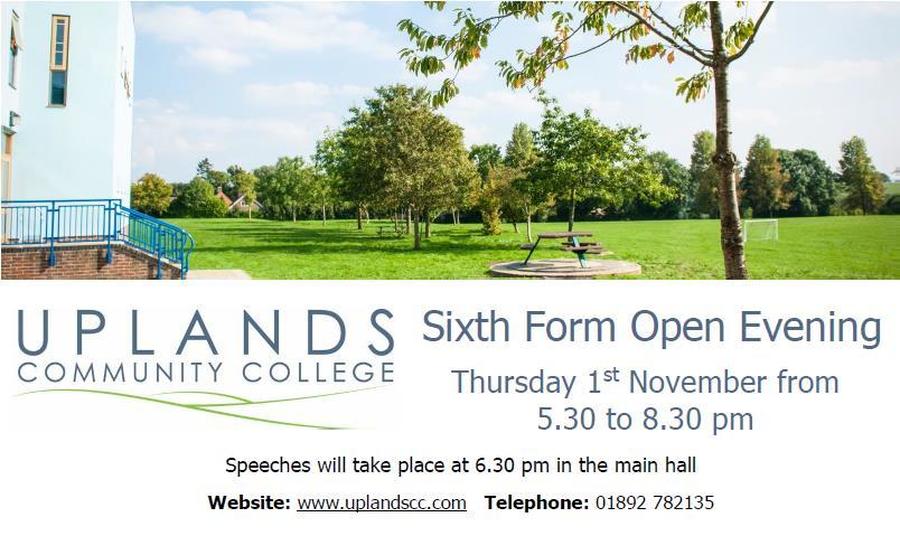 Open Morning Tours - 9.15 am
Booking is essential to secure your place at one of our open morning tours. Please contact us on 01892 782135 to reserve your place.
14th November 2018
11th December 2018
31st

January

2019

11th

February

2019

22nd March 2019
26th April 2019
17th June 2019
Year 5 Open Mornings - 9.15 am
1st - 3rd July 2019