Anti-Bullying Week - Odd Socks Day
On Monday 13th November we are supporting the Anti-Bullying Alliance's 'Odd Socks Day' for Anti-Bullying Week. It's an opportunity for students to express themselves and appreciate individuality and uniqueness! A groups of our students will be delivering all assemblies next week on the theme 'All Different. All Equal'.
There is no pressure on students to wear the latest fashion or for parents to buy expensive costumes. All they have to do to take part is wear odd socks to school, it couldn't be simpler! Odd Socks day will take place on the first day of Anti Bullying Week, Monday 13th November to help raise awareness for Anti-Bullying Week. We would ask students to make a £1 donation to support the Anti-Bullying Alliance to continue coordinating Anti-Bullying Week. Donations will be collected during morning registration.
Pizza and Cola Day
On Wednesday 22nd November we are holding a pizza and cola day in memory of Luke Patmore.
Some of our Year 11 students will be shaving their heads to raise money for the Evelina Children's hospital. You can donate at
Takeover Challenge
On Wednesday 22nd November our Sixth Form student Leadership Team will be taking over the roles of the Senior Leadership Team as part of the Children's Commissioner's scheme. This is the third year that Uplands has taken part.
This year is the tenth anniversary of the Takeover Challenge, originally launched in 2007 by the Children's Commissioner's Office as a fun, imaginative and exciting activity to encourage organisations across England to open their doors to children and young people to take over adult roles.
The Takeover Challenge puts young people into decision-making positions and encourages organisations and businesses to hear their views. Children gain a valuable insight into the adult world and gain experience of a workplace, while organisations benefit from a fresh perspective on their work.
Year 12 and 13 parents' consultation evening
Year 12 and 13 parent's consultation evening will take place on Thursday 23rd November. We hope to see as many parents as possible.
Mr Tullett will be available for general Head of Year appointments so please make appointments with him for discussions of this sort. Ms Thomas will not be available for non-curriculum appointments, so please only make appointments with her for history and politics matters.
We are using an online appointment booking system and the instructions for accessing it are below.
Access the Parent Portal via the website;

Enter your (parental) log in details – if you log in using student details you will not be able to access the booking system;




Access 'parents' evenings' from the 'general' tab;

Your child/ren's teachers will appear at the top of the list, along with the subject they teach and their available appointment slots (other teachers names may also be visible);

Select the appointments you wish to book.
You will be able to download a .pdf showing all your appointments and the rooms the teachers will be situated in.
The online system will be open for bookings from 12 pm on Monday 6th November, until 11.55 pm on Sunday 18th November. Please ensure you have made all bookings by this time as school staff will need to print appointment lists in advance of the evening.
In order for the evening to run smoothly, please ensure that you are on time to your appointment/s as there is a good chance you will be unable to see teachers if you miss the start time.
If you have any queries, please email office@uplandscc.com in the first instance.
Student Finance - talk to parents of Year 13 students
Following the success of previous tours, experienced Student Finance presenters will be delivering Student Finance talks from October to December 2017. The aim is to visit Year 12 and 13 students and their parents/carers in secondary schools, sixth form and FE colleges across England before the UCAS deadline in January, with presentations explaining the financial support available for students going to university from September 2018.
Students will be having their own visit that is specifically aimed at them and this will provide students with the information they require to be able to make an informed choice about going to university. We want to ensure all students understand the finance options available to them and feel confident to begin the process of applying for student finance ready for September 2018.
We have managed to book a visit for our sixth form parents/carers in the Sixth Form Centre (SFC) on 30th November at 6 pm. This talk will be aimed at explaining the process of student finance and up to date information on the current situation of university fees.
Letters have been emailed to all parents of Year 13 students (A copy is available to download here). If you would like to attend the talk, please complete and return the reply slip via the black box in reception, marked for the attention of the sixth form office, by 25th November.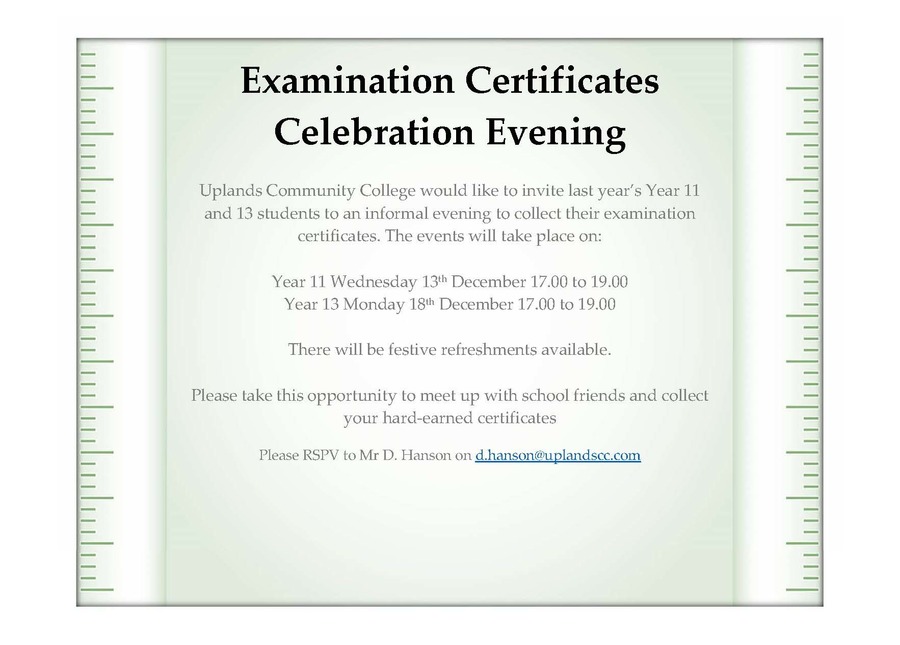 Calling all former Uplands students
• Did you sit examinations at Uplands?
• Did you leave between 2008 and 2016?
• Did you forget to pick up your examination certificates!
• You are invited to pick up your certificates on either of the above days
• Please email d.hanson@uplandscc.com to check if we still have your certificates
Open Morning Tours
Tuesday 14th November at 9.30 am
Thursday 7th December at 9.30 am
Tuesday 23rd January at 9.30 am
Monday 1st March at 9.30 am
Year 5 Open Mornings
Monday 25th June to Friday 29th June from 9.30 to 11 am