Year 12 and 13 parents' consultation evening
Year 12 and 13 parent's consultation evening will take place on Wednesday 29th March. As this is the final parents' evening for year 13 students, it is a vital opportunity to work together with teachers to identify how to help your child to achieve their target in two months' time. For those in year 12 it is a chance to flag up any concerns post mocks for students on two year linear courses and also to prepare for the AS examinations in May on those final few courses where these exist. We really hope to see as many parents as possible. Mr Tullett will be available for general Head of Year appointments so please make appointments with him for discussions of this sort. Unfortunately, Ms Thomas has much larger classes in the sixth form, so will not be available for non-curriculum appointments. We are using an online appointment booking system and the instructions for accessing it are shown below.
1. Access the Parent Portal via the website;
2. Enter your log in details;
3. Access 'parents' evenings' from the 'general' tab;
4. Your child/ren's teachers will appear at the top of the list, along with the subject they teach and their available appointment slots (other teachers names may also be visible);
5. Select the appointments you wish to book.
You will be able to download a .pdf showing all your appointments and the rooms the teachers will be situated in.
The online booking system has now opened and will close at 8 am on Monday 27th March. Please ensure you have made all bookings by this time as staff will need to print their appointment lists in advance of the evening.
A document detailing which teachers to make appointments with, as well as rooming arrangements is below. If no teacher has been specified for your son/daughter's class, you are able to make appointments with any of the teachers they have for that particular subject.
In order for the evening to run smoothly, please ensure that you are on time to your appointment/s as there is a good chance you will be unable to see teachers if you miss the start time.
If you have any queries, please email office@uplandscc.com in the first instance.
Race night
See flyer below for more information. Click here for a form to order your tickets and food. Tickets can be purchased from Student Services/Reception from Thursday 16th March until Friday 31st March.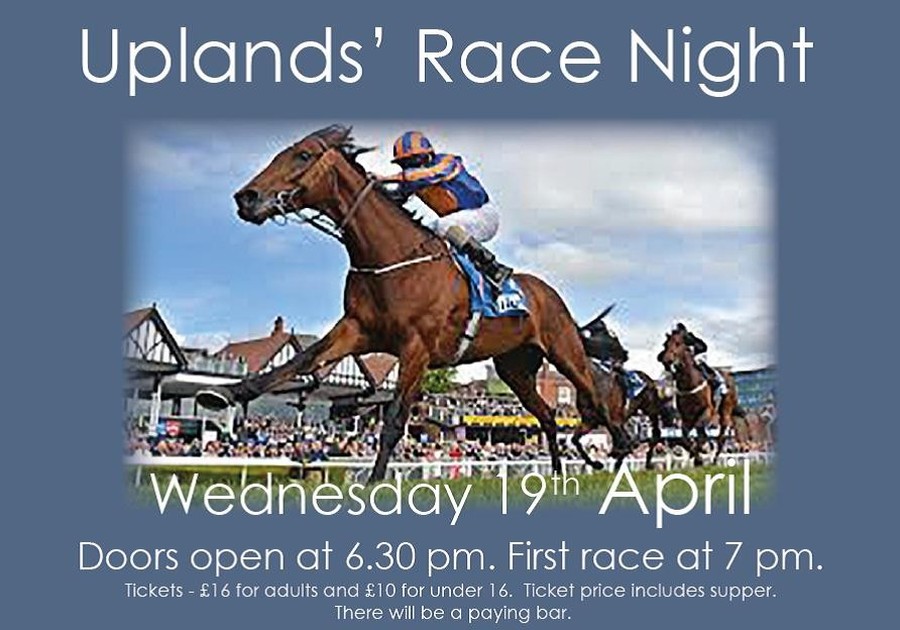 Monthly Tours
Come and see the college during a normal working day, with a tour of the site and an opportunity to speak with a member of our Senior Leadership Team.
Sessions run from 9.15 to 10.30 am. Booking is essential so please contact us on 01892 782135 or office@uplandscc.com to reserve your place.
The dates are as follows:
19th April 2017
17th May 2017
Year 6 into 7 students
Students joining us in year 7, in September 2017 join us for their taster on Thursday 6th July. We look forward to meeting you all.
Further details to follow nearer the time.
Year 5 Open Morning tours
These will take place the week commencing 26th June 2017.
Open Evening - Wednesday 27th September
The evening will run from 5 to 8 pm
More details will follow.
Open Mornings
These will be run during the week commencing 2nd October 2017 at 9.15 am.
More details will follow.