Horse of the Year Show
By Alice McCracken (year 12)
On Saturday the 8th of October I competed at the 2016 Horse of the Year Show. This was in the NEC arena in Birmingham with my horse Rumba. After a very late night the previous day (where my 'working in' time was 9.30 pm), I woke up at half five for my morning 'work in' at 6:15 am. By the time my class rolled around at 11:30, we were all understandably exhausted not to mention incredibly nervous. We stood waiting to go into the ring with the top twenty one horses in the country. I myself was ecstatic to be stood amongst them as we had to qualify earlier in the summer and even that was an achievement for me; I had never before managed to qualify for an event so prestigious and at this point felt it was an honour just to be allowed to compete.
My family, my trainer and lots of friends watched anxiously as I went into the ring. The atmosphere in there was electric with music blasting from speakers, spectators lining the edges and sat on the grandstands, as well as the lights and commentary that were ongoing throughout the class.
It came time for us to perform our individual shows and I was chosen to go first. To everyone's delight Rumba went out and performed foot perfectly going beautifully and behaving like an angel for me. I do have to admit I was holding my breath the entire time!
As I had gone first, I had to wait the longest for the results. I watched horse after horse come out and perform polished, professional shows and was in awe of the company I was in - truly not expecting to be placed. We reached the end of the shows and we all lined up. The music got louder and the commentator more excited as we neared the conclusion of the class. They started announcing placings from 11th and slowly people started to step forward to form the final line up of horses. By the time they got down to announcing 7th and I had not yet been called, I decided I had evidently not been placed and patted Rumba, preparing to leave. Then I heard my name being announced as the 5th placed competitor! I was in shock as I stepped forward to receive my rosette (I couldn't stop myself from crying a little out of pride). I then got to do a lap of honour in the company of some of the most beautiful horses I had ever seen. I came out (still crying) and was greeted by my friends and family who all gave me a massive hug in tears also. A lot of photos were taken and Rumba got a lot of treats and a big hug (also a new special rug with the Horse of the Year Show logo on it) but honestly the rest of the afternoon was just a happy blur.
"To even qualify for Horse of the Year Show (a prestigious event in the equestrian calendar) marks a huge achievement. We are extremely proud of Alice and absolutely thrilled for her on this remarkable success. Alice (and Rumba, of course) are very talented and we feel very lucky to have them on the Uplands Equestrian Team" – Miss E. Bennett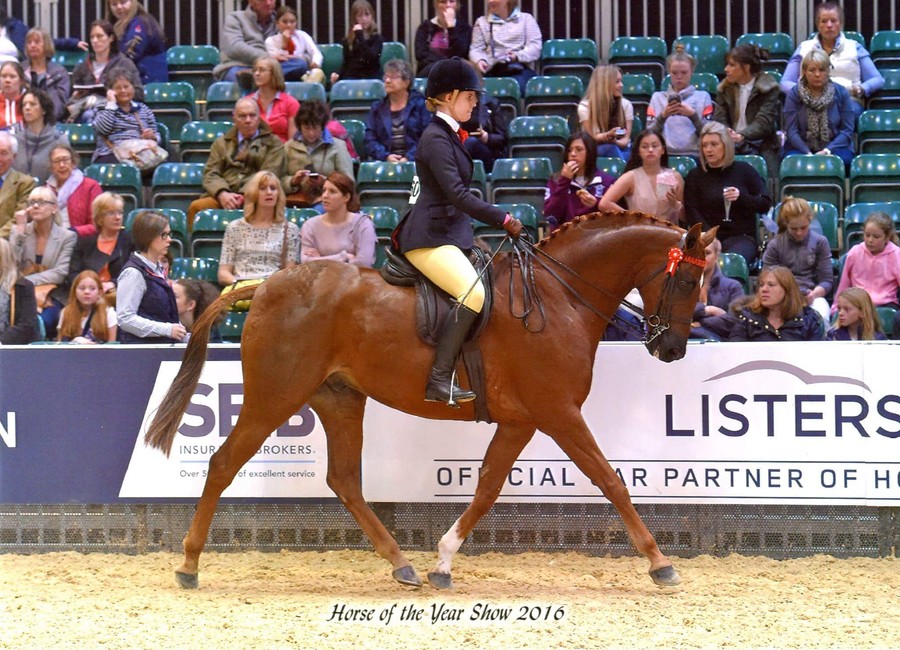 Jumping...with style
Well done to both Ellie Woodhouse (Year 9) and Hattie Bunday (Year 13) who competed for the school Equestrian Team last weekend (17th and 18th September).
On the Saturday, Ellie and her pony Rosie proved just how versatile they are competing in both the dressage and 'jumping with style' classes at a wet, very windy Mayfield School. Ellie put in a great performance in both disciplines as the pictures show.
On Sunday, Hattie Bunday was our lone rider and headed over to Eaglesfield Equestrian, near Sevenoaks. Hattie and her ride Kizzy had an unlucky pole at the very last jump in the 90-95cm class, then flew in the 1-1.05cm class take 4th pace and qualify for the Championship Plate in Keysoe in December.
Well done to both students and their super horses.